St. Augustine, FL, is a wonderful place to visit, and it has a lot of exciting attractions for you to explore. The best attractions for your vacation will depend on your preferences and the ages of those you're traveling with. However, this blog will give you a quick look at some of the top-rated attractions that you really should consider visiting during your trip. Be sure to book a hotel in St. Augustine, FL, that is close to all the places you want to visit!
Castillo de San Marcos
This enormous defensive structure was built by the Spanish in the late 17th century. It took 23 years for them to complete, and it's constructed of stones native to the area's beaches. The walls of Castillo de San Marcos are practically indestructible and are both fireproof and bulletproof. In fact, when the rest of the city was destroyed in a massive fire in 1702, Castillo de San Marcos was practically unscathed. In this fort, the Spanish withstood multiple attacks from the British army and navy.
Later, it was used as a prison during the American Revolution, then as a prison for Native Americans until it closed in 1900. In 1924, it was named as a national monument and is considered the oldest masonry fort in the country. Not only is this a must-see for any history buff, but it also offers spectacular views from the gun decks, which overlook both the ocean and the city. If you're in town at the right time, you might even be able to attend a special event in the courtyard!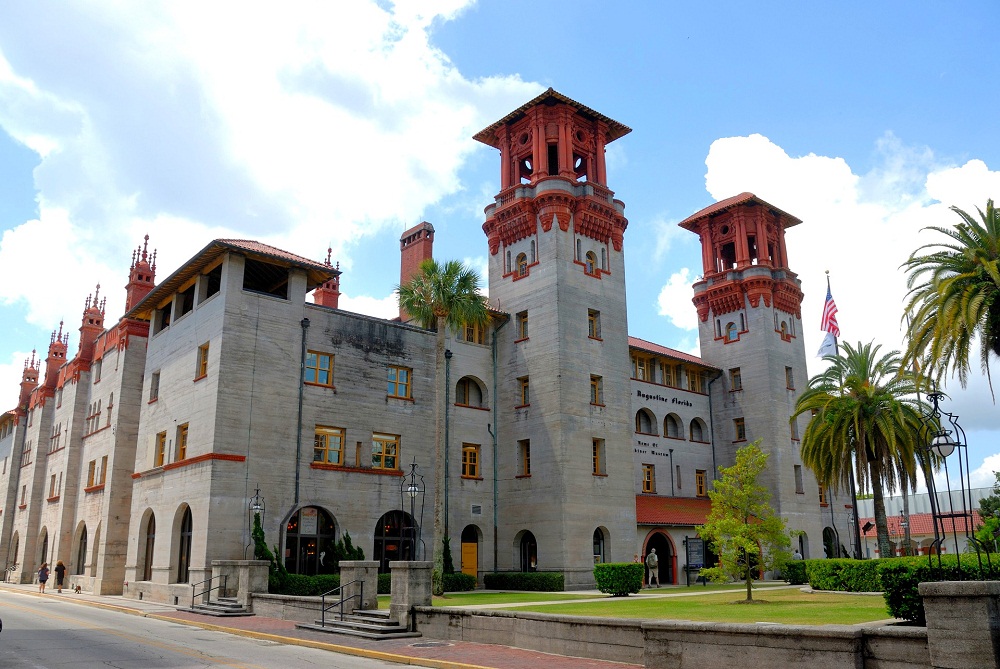 Lightner Museum
Are you or is someone you're traveling with a major art lover? Then the Lightner Museum should be at the top of your list of attractions to see. It boasts one of the best collections of 19th-century art in the country—and one of the most eclectic too. You'll see some traditional decorative and fine arts, such as sculptures, paintings, Tiffany glass, and fine furniture. But you'll also see oddities, including shrunken heads, cigar labels, art made of human hair, and even a mummy!
Colonial Quarter
The Colonial Quarter is a living history museum that allows you to step back in time and experience what St. Augustine may have been like between the 16th and 18th centuries. You'll find shipbuilders building a real replica of a 16th-century caravel (the kind of ship Juan Ponce de Leon used), blacksmith shops, musket drills, watchtowers, and more. There are also hands-on exhibits that allow you to further experience life in these times.
Fountain of Youth Archaeological Park
When Ponce de Leon landed in the area, he was in search of the legendary Fountain of Youth. And while he never found it, this archaeological park is now named for his famed search. The 15 acres of this park feature some beautiful views, a stunning riverwalk, and some resident peacocks for you to enjoy. It also includes a replica of the First Mission of Nombre de Dios, the Navigator's Planetarium, and even a live cannon demonstration amid the other reenactments that occur here.
There's so much to see and do in St. Augustine, whether you're looking for something to do that's adventurous, educational, relaxing, or exciting. And when you've had a fun-filled day at these attractions, you can return to your St. Augustine hotel to relax and unwind and prepare for another incredible day. Contact La Fiesta Ocean Inn & Suites to book your room now!