Hotel Amenities and Services
La Fiesta Ocean Inn and Suites offers a number of features and amenities to accommodate your requests and needs.
An incredible oceanfront/beachfront location

Complimentary light-fare breakfast delivered daily to your room or suite

60-foot outdoor heated pool, largest in St Augustine Beach

Included parking and concierge services

Bus service to historic downtown St. Augustine (with purchase of Old Town Trolley ticket)

Freshly brewed coffee all day in our lobby
Award winning landscaped gardens and waterfalls

Private boardwalk to the beach

24-hour washer/dryer access

Full access to the YMCA Athletic Club

Easy access to Fiesta Falls Miniature Golf

WiFi

On site vending machines
Rooms Amenities Include:
Monogrammed bath robes in Suites and Oceanview King room

Full private bathrooms

Wireless internet access

High Definition Satellite TV with Three HBOs

Microwaves and refrigerators

Individually controlled heat/AC
Hairdryers, Irons/ironing boards

Fireplaces available in many rooms

Balconies or patios with garden or ocean views in many rooms

In-room safe in many rooms

In-room telephone
Guest Comments & Accolades
·       Voted "Best on the Waterfront" by Arrington's Inn Traveler
·       Winner: "City of St. Augustine Beach Landscaping Beautification Award"
·       USA Today Travel recommends La Fiesta
From USA Today: "For St. Augustine visitors looking for a place with a scenic view of the Atlantic Ocean, La Fiesta Ocean Inn and Suites offers just the spot. The townhouse suites can accommodate up to five guests, and couples will especially enjoy the Jacuzzi bathtub and fireplace. The hotels puts you just 10 minutes from the historic district and 30 seconds away from the cool ocean waters of the Atlantic. When the ocean turns too cold, hop into the massive heated pool.
Hotel Policies
Resort Fee: $22.97 per night at La Fiesta.
Taxes: Sales and bed tax total 11.5% per night.
Minimum Check in Age: The minimum check-in age is 21.
Pets: Both properties are pet free. Several good kennels are nearby to board pets. Service dog owners should have official documentation to present at check-in and "service dog" vest to wear when outside. Please click on the ADA Service Animal Requirements link below for information about what constitutes a Service Animal.  https://www.ada.gov/service_animals_2010.htm
Smoking: Smoking is not permitted inside guest rooms. For the convenience of smoking guests, smoking is allowed in certain outdoor areas.
Parking: Off-street parking is included – one vehicle per reservation
Registered Guests Only: For the comfort and safety of all our guests, only guests registered to the room are allowed on the property. Guests of guests are not permitted.
Deposit Policy for La Fiesta: If booking on our website, the first night is charged at the time of booking*. If booking directly over the phone with La Fiesta, the first night is charged six pays prior to arrival. The balance is due at check in, and must be paid by credit card. Cash and checks are not accepted. Credit cards may be authorized at check in to guarantee any incidental charges. *'Advance Purchase' reservations are charged in full at the time of booking and are non-refundable.
Cancellation Policy for La Fiesta: If you need to cancel or modify your reservation, please contact us at least seven (7) days in advance of your arrival date to avoid losing your first's night's deposit*, which becomes non-refundable six(6) days prior to arrival. *'Advance Purchase' reservations are charged in full at the time of booking and are non-refundable.
Payment Methods: A valid credit card is required to reserve the room, and also at check in. We will charge your credit card for the total amount of your stay prior to your occupying your room/suite. If you prefer to pay cash you can do so at check-out and we will refund your credit card keeping in mind that a refund may take 3-14 days to appear in your account depending upon your bank. Re-loadable cards, pre-paid cards, and gift cards are not accepted.
Check-in Time: Check-in time is 3pm or later, and check out time is at 11am.
Requesting a specific room: While we cannot guarantee a specific room number we make every effort to grant special requests.
Wireless internet (WiFi): Wireless internet is secure and is included in rooms and common areas.
Local calls: Local calls are included.
La Fiesta Ocean Inn & Suites opened as "La Fiesta Motor Lodge as one of the first Inn's on St. Augustine Beach. The design replicated historic old Spanish architecture, which included stucco and clay tile roofing. Guests continue to admire the authentic historic style on Florida's historic coast, as well as state of the art amenities. One of the most prominent features of the Inn is the large 60-foot heated swimming pool which is still known as the largest heated pool on the beach.
A former U.S. Coast Guard lookout tower remains adjacent to the property today.
In the 1960's La Fiesta Motor Lodge and the adjacent beachfront home were traded for a fleet of shrimp boats. The local boat builder, L.C. Ringhaver traded the shrimp boats for the property and operated the inn for about a year and then sold it. Although he sold the Inn, his family currently still owns the oceanfront estate located next door.
The first addition to La Fiesta took place in the mid 1980's when eight ocean view rooms were constructed at the east end the hotel. Using high-quality construction techniques, the owners Ben & Dee La Mendola along with their daughter Kim, maintained the Spanish style, while increasing the size and features of the rooms. The third addition was completed in 2000, when the La Mendolas added an additional building with eight suites. Five of the popular suites have two-levels, along with electric fireplaces, Jacuzzi tubs, granite wet bars and ocean view balconies.
La Fiesta is a locally family owned & operated Inn with Rich O'Brien and Lauren Ringhaver as your hosts. They met in 2001 at the La Fiesta pool while Lauren was visiting her family, who owns the adjacent oceanfront residence. They married in 2003 and since then have completed a long list of improvements to the inn, providing guests with the most up to date amenities and award-winning gardens for guest to enjoy.  Major renovations were completed in early 2013, with all new furniture, flat screen TVs and more. In the summer of 2017, an all-new, wireless internet infrastructure was added using the latest technology, providing guests with a stronger, more dependable signal, at blazing fast speeds. In late 2017, the television system was completely upgraded, and now provides 48 high-definition channels in all the rooms, including 3 HBOs.
You will enjoy Fiesta Falls Miniature Golf, which is located next to La Fiesta Inn & Suites. The prized 18-hole miniature golf course opened in the late 1980's and is known for its extensive water features, ocean views and 65-foot Spanish ship in the lagoon and delicious soft serve ice cream.
In 2005, Rich & Lauren also purchased the adjacent bed and breakfast at 1 F Street, which they operate today as Beachfront Bed & Breakfast. Their oceanfront bed and breakfast has eight romantic rooms and is ideally located beach front. The beautiful gardens, heated pool and Jacuzzi, tastefully appointed rooms, luxurious linens, and delicious breakfasts, make Beachfront Bed & Breakfast a desirable destination exclusively for adults in the St. Augustine Beach area.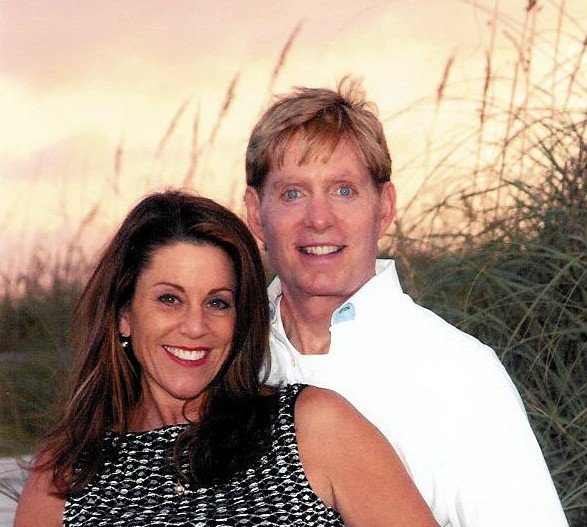 Community Involvement
La Fiesta owners, Rich & Lauren are active members of the following local organizations:
St. Johns County Chamber of Commerce
St. Augustine Attractions Association
Visit Florida
St. Johns County Visitors & Convention Bureau
St. Augustine Beach Civic Association
Flagler College Presidents Council
Northeast Florida Community Hospice
Council on Aging
Rich has been on the St. Augustine Beach City Commission for many years, and served as Mayor in 2008, 2011, and 2017. Rich also serves on the St. Johns County Visitors and Convention Bureau and the St. Johns County Tourist Development Council. Rich & Lauren are members of the Flagler College, Presidents Council.
Lauren has a rich history in property management and sales. She is a volunteer with our local Hospice for many years and serves on the advisory board of Opportunity International. Lauren has done numerous mission trips throughout the world with her church Willow Creek Community Church, Barrington, IL.